Over at Slate, Jordan Weissmann has some interesting data on restaurant attendance and how its changing in states that are reopening. Per Weissmann:
At restaurants that use OpenTable's booking software, the number of diners in every state where the company tracks data was still down by 82 percent or more through Sunday, compared with a year before. That includes early reopeners like Georgia (down 92 percent), Utah (down 91 percent), Nebraska (down 90 percent), South Carolina (down 89 percent), Tennessee (down 87 percent), Texas (down 83 percent), and Oklahoma (down 82 percent).
And then here's a chart: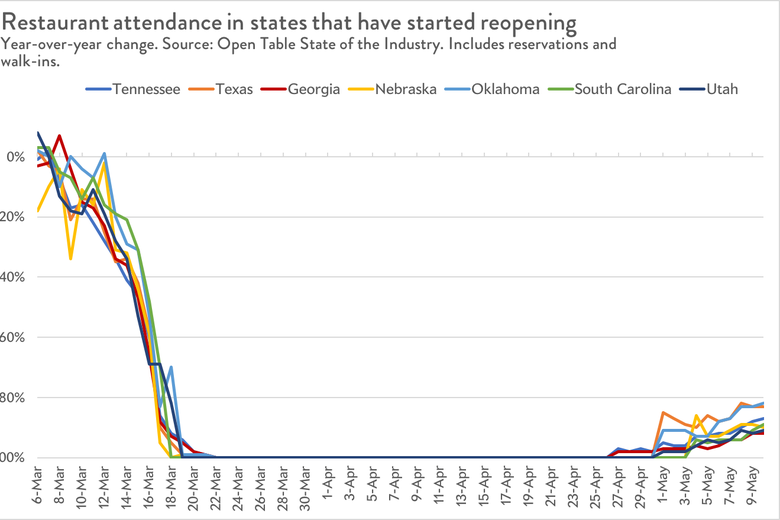 We shall see if these attendance figures spike as reopening becomes more normalized, but I think this hits at a really important point: people aren't going to feel safe just because the government is pushing for reopening. As Matt Yglesias astutely pointed out at Vox a few weeks ago, "opening up the economy won't save the economy." We've seen a growing partisan divide between support for lockdown measures, yet most Americans are still worried about coronavirus and support stricter social distancing measures. And this matter because restaurants are going to start running out of PPP cash to make payroll, and are going to have a harder time delaying rent payments when landlords are able to see they are, technically, reopened.
Unless customers suddenly get comfy with risking their lives for a cheeseburger—or unless Congress approves another wave of relief spending—this is going to be an immensely difficult period of time for restaurants and bars.